Background Information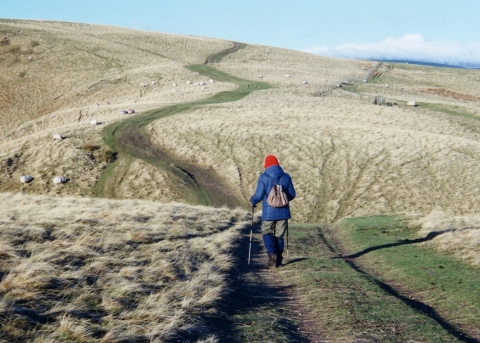 This new website, designed by Dave Smyth at Energise Web, is a great step forward. It is intended to function as a sort of virtual retrospective exhibition with the added feature that it can be updated easily. I intend to update it several times a year, with news items posted on the update pages, but I may also change the works on view in the galleries as I improve my skills for turning 35mm slides into jpegs.

Apologies in advance for any hiccups caused by my unfamiliarity with the new format. Hopefully, I will get the hang of it quickly and will spare you any confusion or inconvenience.

This photograph of me was taken by my husband Lew Bobb. We were walking on Clennel Street, an old drover's road in the Cheviot Hills in Northumberland, England. It was a cold, still January day but I am not certain of the year; it was probably 2001 or 2002. I used this photograph in my original website and it is still my favourite picture of me.